1-day fishing trips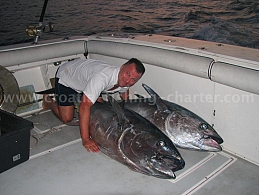 Tune na Megabite brodu
Every day sailing out at 8 AM (even earlier if aranged) from Marina Hramina on Murter. Trip to fishing teritories takes 1 hour. Then going out in the open sea and fishing until twilight.
During the one-day fishing trip it is possiblle to make a lunch or swimming break in nearby coves that are only accessible for boats.
Fishing techniques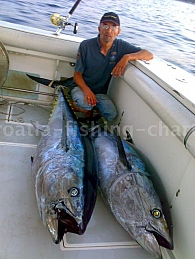 Bluefin tunaDuring a fishing day, depending on season, the offer changes a few fishing techniques, all according to the fish migration and duration (1 – 3 days). You take part in all the activities and every suggestion is welcome.
Fishing tools
It is important to note that all equipment on board is accessible to you, but if you have your own items, You can take them with You with prearrangements with the captain.
1-day trips are available throughout the year.
Back