Where to find us?
About the Murter Island
Murter is one of the islands of the North-Dalmatian archipelago, which contains over 40% of all Croatian islands and is the thickest in the Adriatic and Mediteranian area. Due to the inhabitants' (Murterin) care about their over-sea possessions, Murter has become the centre of the "galaxy" containing 189 islands, isles and cliffs.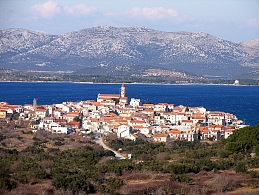 Betina Murter The island is located in the north-western part of the Šibenik archipelago of tha Šibensko-kninska county. Murter is just 6 meters away from the mainland, so that distance was solved by building a moving bridge that makes the island accessible for automobiles in every season
There are 4 towns on the island: Jezera and Murter are older, Betina and Tisno are newer. Big part of the island is covered in centuries-old olive and fig trees which are the predominant cultures grown on the island.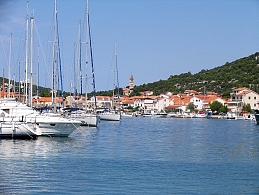 Jezera MurterIsland Murter is renouned for its wonderful sandy and pebbly beaches. There are big beaches such as Kosirina, Slanica, Podvrške and Lovišća, but one can also find small bays and places hidden from view and distant from the crowd.