3-day fishing trip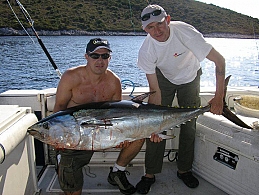 Tuna megabite
This is a very atractive fishing arrangement which is very successful in April, May and June. One of the most atractive fishing positions is Jabuka island. Jabuka is a small volcanic island far away from the coast in the open sea which neither has harbour nor any ships. Therefore it's a piece of wilderness in the open sea. Tha aquatorium around the island is known as the richest fishing area in the Adriatic, especially in the spring.
Fishing trip to Jabuka
Starting as usual. Travelling over 40 NM in the open sea, The sail itself isn't just a "taxi ride", it is a very nice trolling for tuna and tunny.
Red porgy (Pagrus pagrus)Arrival until noon and using bulertin technique for varied catch fishing. Fishing all the way, day and night. As such it is an ideal challenge for the true fishing addicts who are never bored Using different techniques guarantee a big and varied catch.
Return
The return is on the third day with visiting the Kornati islands and an unforgetful lunch made of all the caught fish.
Back