People from Austria like Big Game Fishing
10.05.2014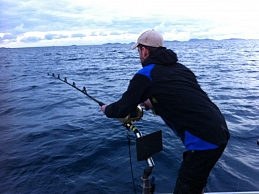 On begining of new season we have guest from Austria, father and son. They enjoyed fishing and were successful (maybe we did a little help). A brief review from them and their photos from fishing, see below.
Hello Anthony,
Thanks again for the good time while thuna-fishing in Turanj. My father and I really enjoyed the trip.
With this E-Mail I am sending you a few pictures of the trip.
Thank you also for the spontanious trip to the little island.
My father and me we talked a lot about thuna fishing and the island on our way home to Austria.
Povratak